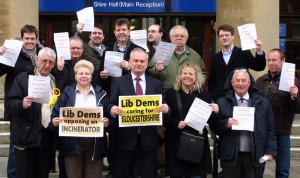 The Liberal Democrats have today officially launched their full Manifesto entitled 'Caring for Gloucestershire'.
The manifesto, which is split into nine key areas include money, jobs, people, environment, transport, safety, communities and countryside. The launch took place on the steps of Shire Hall amidst a number of key Liberal Democrat activists.
In speaking about the manifesto, Liberal Democrat Leader Cllr. Jeremy Hilton said: "Our manifesto shows that a Liberal Democrat run council would care about what is important to the people of this county. It is our plan to make Gloucestershire a better place to live.
"We believe that more can be done to improve the quality of services provided by Gloucestershire County Council. Ours is a plan that will help people across the county understand who we are, what we represent and what is important.
"This manifesto spells out our county policies taking us up to the County Elections and beyond. Our manifesto confirms that a Liberal Democrat run-council will not cut corners. A Liberal Democrat run-council will commit to delivering a better future for everyone in Gloucestershire."
Link to manifesto: Manifesto 2013 Final